This is a fattening post so you may want to close your eyes....
Yesterday was the first day of school and since I a. can't make homemade goods for students but I can for the teachers and b. needed to try out my cake pop making skills, here is what I brought to share.

Cute right? They totally came from

Bakerella

; I figure if I'm going to play the role of obsessive stalker, I need to be able to say I've made some. Maybe I'll bring in a photo to have her sign saying "I couldn't have done better, Bakerella!"? Yes, they are Golden Delicious apples, I bought a bag of yellow melts that were on crazy sale awhile back, just because they were on crazy sale.

No one seems to mention that they were a bit of work but TOTALLY worth the oh's and ah's. And the cute tags? Why, they are from the fabulous

Bird Crafts

(shout-out!) and she is another place I spend way too much time at.

And speaking of sweets, the boys and I were on a doughnut adventure! Right around the corner from each other near our favorite place,

Central Market

, are two great doughnut spots. And no, we didn't hit them up in one day, could you imagine the boys' sugar rush?

First up,

Top Pot Doughnuts

. To be honest, I never knew of their existence until this summer when a

Seattle Seahawk broke into one at 3 a.m. for a maple bar

. So of course, we had to go.

I apologize for the crappy photos, they were from my cell phone. I really need to just walk with my camera!


If you can see, they have doughnuts decorated in regional school colors, including our Sounders Soccer colors. They are larger than standard size and are quite tasty! We will definitely visit again, and even better, it's in a University Of Washington bookstore, so even more excuses to shop.

Next up, our personal fave,

Frost Doughnuts

. Although the boy was not so adventuresome, by getting another maple bar, the little one, true to form picked the flashiest one there, covered in syrup and sprinkles.

What I love about them is their doughnuts come in stages...classic, premium and evolved. So whether you are up for just a regular doughnut or want all the bells and whistles, they have what you need. Oh, did you notice the plastic container?

Yup, I ordered the Pink Lady, a moist chocolate cake doughnut with a huge dollop of pink strawberry buttercream and sprinkled with pink sanding sugar. All evolved doughnuts are served in a lovely plastic container. Clever, no?

I'm so excited because

I blogged about this

awhile back for cupcakes, and it's even cuter with doughnuts. And yes, I've sent home extra cupcakes in ones I found at our Dollar Tree. You can find similar containers at

Think Garnish

, the 16 ounce is perfect.

Don't you love this idea? Donut holes with a little container of designer frosting for dipping, Frostini Duets! Oh yes, we are having those on the next trip. And it will be soon...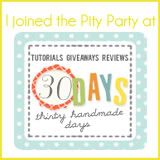 Labels: cookies/cupcakes, food, local shout-outs, shameless promotion, We Wednesday