I'm tired. Our Halloween party (future post) was last night and I've been prepping for that, hubby's flight came in late so I was waiting up for him, then had to get up today and out to a birthday party, back home to change and head to the corn maze (future post) and then to the Y for a Pumpkin Patch swim (future post). My poor blog hasn't been getting it's love and care, so I wanted to squeeze in a chockful of goodies' post before I returned to cleaning up the wreck that is the house.

Before I launch into the rest of today's ramblings, I must share this because I still don't know how I missed this fabulous Halloween table from Sweets Indeed?


I know, right? There is just so much to look at, go see the rest, it's amazing!

So what have I been up to, you ask. OK, I'll give you a peek! Need a cute craft idea that's easy on the wallet? Get thee hence to Dollar Tree (or perhaps your local dollar store) and pick up a pack of ping pong balls and flameless tealights...

...cut an X in a ball and push the tealight's bulb through.

Draw eye details on the ball with permanent markers and add fun embellishments cut from cardstock and attach with glue dots. Thank you, FamilyFun, this is was one of the crafts for our Halloween party.

Remember my lips' candy mold from our Kiss Me, I'm Irish party? Well, if you have such a mold, they make great vampire lips when you add vampire fangs from white candy melts. Mine are a part of the cute thank you package I made for my party helper. I was thinking Twilight, but then realized she's not so much into it, but vampires are universal. A bottle of Vampire Blood anti bac from Bath And Body Works, an apple scented candle and topped off with vampire teeth.


Check out these amazing freebies from around the blogosphere! Paper Crave has an amazing 3 part round-up that you've got to check out!

Another amazing round-up from Tater Tots & Jello with more freebies, some I've featured before and a few new ones, including these beverage labels with a great tutorial to making your own!


Not only did Chris from Celebrations At Home design a fabulous Mad Hatter Halloween party, she shares the printables designed for her from Gwynn Wasson Designs!


I am squeaking over these free owl treat bag printables from Paper Crave, because I already see the whole party in my head! If I hadn't already fallen in love with furry monsters for our parties, owls was a close second.

Add to it these cupcakes from One Charming Party, having guests decorating their own felt owls...sigh, next year, it's Owl-O'ween!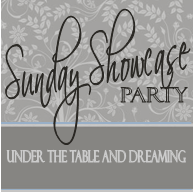 Labels: crafts, Fiesta Friday, giveaways/freebies, Halloween