Glübers by Cosmo Cricket

! Basically, it's a circle of adhesive, designed to create flowers from all types of mediums, from ribbon to glitter and everything in between.

They come in 2", 2 1/2" or 3" circles and once I saw it, I immediately thought of these paper tissue lollipops and promptly bought two packages. For now, you'll find them in high end specialty craft stores, but I'm sure the box stores like Michael's and JoAnn's will carry them soon! I'm seriously needing to combine them with these flowers from

Scrapbooks, Etc.

but I digress.

Check out the gift bag topper I made using Glüber and crepe streamers. Don't worry, I'm going to walk you through the cuteness.

2" Glüber
24" each of crepe streamer in your choice of colors
lollipop or craft stick (I found my colored sticks at Rite Aid)
mini clothespin





4. Start in the center, coiling the streamer 'ribbon' around on the Glüber. Thanks to all the adhesive, it sticks like a dream.

5. Before you know it, you have the lollipop top all done.


So easy, I decided to make a crepe paper flower by folding a streamer in half and fringing it.

Then, I was having so much fun, I followed the directions and made a ribbon rosette.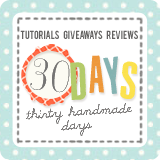 Labels: crafts, favors, Tuesday Tip, Tuesday Tutorial