I was recently contacted by a PR representative for
Wrigley
to see if I was interested in coming up with some fun candy creations to inspire my readers to show how gum and candy can be used in many fun ways. They recently teamed up with THE
Amy Atlas
(check out her Thanksgiving Corn Husk Cookies) and sent me a few of her recipes to either tweak them, or come up with my own. Hmm....playing with candy? Yes please!
They sent me a large candy 'kit' filled with all types of Wrigley candy and the wheels started turning.
I started with unpainted birdhouses, then added a coat of brown paint and white for the roofs....
To make the ornaments last another season or two, I would suggest spraying it with a craft sealant. This is the perfect fun activity for older children and adults to have the fun of gingerbread house decorating without feeling 'kiddish'. Be warned, hot gluing is a must, the candy will just slide off with regular glue, so definitely not for the young'uns.
Disclaimer: I received free product courtesy of Wrigley, no compensation was given, real or implied. This review is my own personal opinion.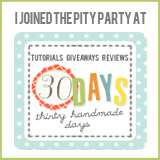 Labels: candy, celebrity trash, Christmas, crafts, food, reviews/interviews, tips