Seriously, is Christmas here in 4 days? I had to squeeze in a few tutorials for you last minute crafters for the weekend. Today's an easy-peasy craft you can knock out in 35 minutes...30 of that is baking time. All you need is polymer clay and the cookie cutter of your choice to create your own gift toppers.
For some reason, every time clay goes on sale, I buy it with full intention of making awesome crafts. So I have a bunch of Fimo clay packs in my craft closet, and I found a tiny tree and gingerbread man cookie cutter at Hobby Lobby. In other stores, they sell small ones as fondant cutters. Regular cookie cutters create great tree ornaments.
I love polymer clay, you can make anything with them. Break out a rolling pin, roll some out and cut. Raised stamps are totally optional, but if you have festive sayings, stamp away! I used a skewer for the hole, and popped them in the oven according to the package's directions. You can totally get fancy and add on clay embellishments...tiny balls of clay for ornaments on my tree would have made it just as cute.
Who needs a bow when you can make a lovely keepsake? I know, why didn't you think of that earlier?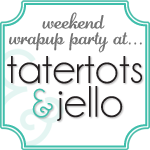 Labels: Christmas, cookies/cupcakes, crafts, Tuesday Tutorial